Tone pair 1-1
If you're already familiar with tone pairs, then you might be ready for some specific examples. This page will cover some examples of the 1-1 tone pair, which Sinosplice rates as a "1" on a difficulty rating of 1-7 (easiest to hardest).
This one's pretty easy! You just stay high and level, almost robot-like. Practice this tone pair using the words below. Once you can say them reliable in isolation (as just a tone pair), try putting them in longer sentences while keeping the tones accurate.
1-1 Tone Pair Diagram
It helps many learners to see the two tones side by side.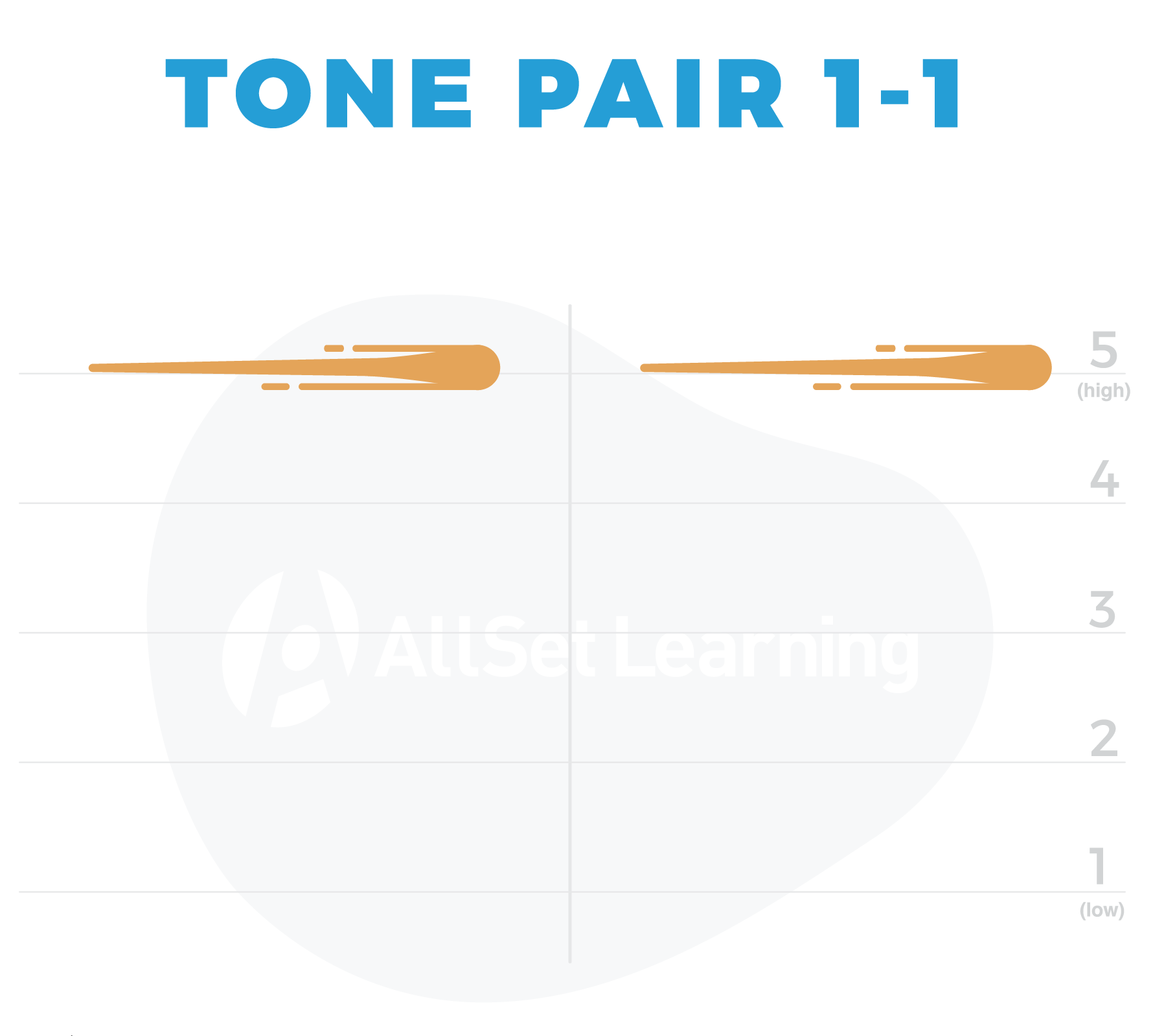 1-1 Tone Pair Words (A2)
If you're just getting started with tone pairs, these simple two-syllable words and phrases are a good place to start. If these are too easy, you may want to move onto the longer (B1) phrases below.
| Audio | Chinese | Pinyin | English |
| --- | --- | --- | --- |
| | 今天 | jīntiān | today |
| | 公司 | gōngsī | company |
| | 星期 | xīngqī | week |
| | 咖啡 | kāfēi | coffee |
| | 香蕉 | xiāngjiāo | banana |
Source: AllSet Learning's "Tone Pair" Pronunciation Pack (used with permission)
1-1 Tone Pair Phrases (B1)
| Audio | Chinese | Pinyin | English |
| --- | --- | --- | --- |
| | 星期天 | xīngqītiān | Sunday |
| | 吃 香蕉 | chī xiāngjiāo | to eat a banana |
| | 喝 咖啡 | hē kāfēi | to drink coffee |
| | 去 公司 | qù gōngsī | to go to the office |
| | 很 开心 | hěn kāixīn | very happy |
Source: AllSet Learning's "Tone Pair" Pronunciation Pack (used with permission)
1-1 Tone Pair Combos
| Audio | Chinese | Pinyin | English |
| --- | --- | --- | --- |
| (coming) | 真新 | zhēn xīn | really new |
| (coming) | 真黑 | zhēn hēi | really black, really dark |
| (coming) | 真干 | zhēn gān | really dry |
| (coming) | 真轻 | zhēn qīng | really light |
| (coming) | 真酸 | zhēn suān | really sour |
Source: Sinosplice's Mandarin Chinese Tone Pair Drills (used with permission)
Sources and further reading
Videos
Websites