Using "dao" to mean "to go to"

Level

Similar to

Used for

Keywords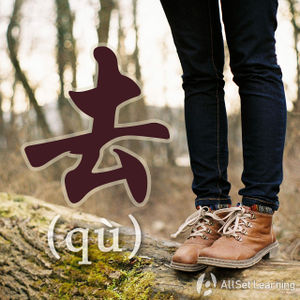 A simple and direct way to indicate that you or someone is going to a specific place or has arrived at a specific place is to use the verb 到 (dào).
到 (dào) for Arriving in a Place
Structure
The verb 到 (dào) is used to talk about arriving in places.
Examples
For these examples, it's straightforward to think of 到 (dào) as simply meaning "to arrive."
他们 已经 到 酒吧 了。

They have already arrived at the bar.

我 刚 到 家。

I just got home.

你 到 机场 了 吗?

Have you arrived at the airport?

我 已经 到 火车站 了。

I've already arrived at the train station.

我们 先 到 北京 , 然后 到 香港。

First we'll arrive in Beijing, then in Hong Kong.
In some examples translating 到 (dào) as "to arrive" doesn't work as well and you might need to expand your understanding of exactly what 到 (dào) means. That's what we'll examine below.
到 (dào) for Coming or Going to a Place
One commonly used structure takes the above one and adds a 来 (lái) or 去 (qù) to the end of the sentence.
Structure
Examples
我 下午 在 家 ,你 可以 到 我家 来 。

I'll be home this afternoon. You can come to my house.

老板 马上 到 办公室 去 。

The boss is going to the office right now.
Going to a Place and Performing an Action
Structure
If you are going to a place to do something else, you can first use 到 (dào) to indicate where you're going, then add another verb after that. This has the meaning of "going to the place to do something," and it's one case where the "arrive" translation doesn't really work anymore.
Subj. + 到 + Place + Verb Phrase
Examples
明天 我 要 到 南京 路 买 衣服。

Tomorrow I'll go to Nanjing Road to buy clothes.

你们 晚上 到 哪儿 吃饭 啊?

Where will you all go to eat food this evening?

我 跟 朋友 经常 到 KTV 唱歌 。

I often go to Karaoke to sing songs with friends.

今年 春节 我 要 到 女朋友 家 见 她 的 父母 。

This Spring Festival I am going to my girlfriend's house to meet her parents.

下 个 月 我 要 到 美国 出差。

Next month I need to go to the USA on a business trip.
You might be wondering: can I just use 去 (qù) instead of 到 (dào)? For sentences like this, yes, you can. But native speakers will frequently use 到 (dào) in this way, so it's still good to be familiar with this pattern. If you want to sound more native, you should use it too!
到 (dào), 去 (qù), and 走 (zǒu)
Sometimes it can be hard to figure out exactly which word to use in Chinese to mean "go." 到 (dào) is used when you talk about arriving at a place, emphasizing the destination. 去 (qù) is used when you are going to a place. The exact meaning is "to go," and it emphasizes getting to somewhere. 走 (zǒu) is used when talking about "leaving." The emphasis is on getting away from a particular place.
See also
Sources and further reading
Books