Auxiliary verb "yao" and its multiple meanings

Level

Similar to

Used for

Keywords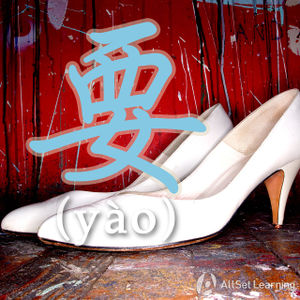 You probably already know the basic meaning of 要 (yào) as "to want." It is actually a quite versatile word, though, and can also take on the meanings of "to need" as well as "will (do something)." In every case, context is crucial for figuring out which meaning someone is trying to express.
要 (yào) as "Want"
This structure could be used when ordering food at a restaurant or a shop. Here, it's being used for saying that you want something.
Structure
Examples
你 要 什么?

What do you want?

我 要 一 杯 水。

I want a cup of water.

你们 都 要 冰 可乐 吗?

Do you all want coke with ice?

你 要 茶 还是 咖啡?

Do you want tea or coffee?

我们 要 三 碗 米饭。

We want three bowls of rice.
要 (yào) as "Want to"
In Chinese, 要 (yào) can mean "want to" (similar to 想 (xiǎng)), but its tone is quite firm. So it's used for saying that you want to do something.
Structure
Examples
你 要 喝 什么 酒?

What kind of wine do you want to drink?

爸爸 要 买 一 个 新 手机。

Dad wants to buy a new cell phone.

我 要 跟 你 一起 去。

I want to go with you.

她 要 去 大城市 找 工作。

She wants to go to a big city to find a job.

周末 你们 要 一起 看 电影 吗?

Do you want to go see a movie together this weekend?
要 (yào) as "Need to"
If you crank the urgency of "to want" up a few notches, you get "to need." The two meanings overlap, creating a fuzzy, "needy" gray area.
Structure
Examples
你 要 早 点 睡觉。

You need to go to bed earlier.

我们 明天 要 上班。

logically, most people don't really WANT to work

We need to work tomorrow.

老板 今天 要 见 一个 新 客户。

Today the boss needs to see a new client.

老师 太 累 了, 要 好好 休息。

The teacher is too tired. She needs to rest well.

明天 下雨, 你 要 带 伞。

It's going to rain tomorrow; you need to bring an umbrella.
要 (yào) as "Going to"
This use of 要 (yào) is like "going to" (similar to 会 (huì)).
Structure
Again, no change to the structure here, but it often includes a mention of a time when something is going to happen.
If you want to know more about the related pattern "要⋯⋯了" (yào... le), please see the "kuai... le" pattern.
Examples
星期五 我们 要 开会。

We are going to have a meeting on Friday.

12 点 我 要 去 吃饭。

I am going to go eat at 12 o'clock.

老板 下周 要 出差 吗?

Is the boss going on a business trip next week?

他们 明年 要 结婚 了。

They are going to get married next year.

今年 你 要 回家 过年 吗?

Are you going to return home this year to celebrate the Chinese New Year?
Context, Context, Context
You may have noticed that the meanings can easily overlap. To figure out what is intended, you need to use context. How urgent is the situation? Is it likely to be something the speaker really wants to do? Is it something that's totally going to happen, regardless of anyone's preference? Most often, a little background knowledge and some common sense are all you need to figure it out.
See also
Sources and further reading
Books