Expressing "in addition" with "haiyou"

Level

Similar to

Used for

Keywords

Translations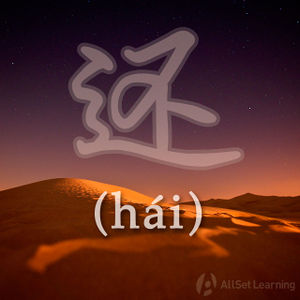 还有 (háiyǒu) is used to express "in addition..." or "and also..." in a conversation. It is introducing new information to the topic the speaker is talking about, as an afterthought. While it's not the most challenging grammar structure, an important thing to keep in mind is that 还有 normally starts a completely new sentence or clause.
Structure
It's as simple as using 还有 before the new clause or sentence. 还有 can also be used with a comma, similar to how we can say "in addition..." in English.
Examples
你 需要 吃 药 。还有 ,要 多 休息 。

You need to take medicine. Also, you should get more rest.

我 要 大杯 ,不要 冰 ,还有 ,少 放 糖 。

I want a big cup. Don't put ice. Also, less sugar, please.

不要 一边 吃饭 一边 说话 。还有 ,别 吃 那么 快 。

Don't talk while you eat. Also, don't eat so fast.

考试 的 时候 不要 说话 。还有 ,不要 用 手机 。

Don't talk when you take a test. Also, don't use your cell phone.

他们 不 想 要 孩子 。还有 ,他们 也 没 时间 照顾 孩子 。

They don't want to have kids. In addition, they don't have time to look after kids (even if they had one).

酒店 谁 来 订?还有 ,机票 买 了 吗 ?

Who's going to book the hotel room? In addition, did they buy the plane tickets?

下班 以后 早点 回来 。还有 ,回来 的 路上 买 点 水果 。

Come back early after work. Also, buy some fruits on your way back.

今天 要 做 完 这个 报告 。还有 ,明天 开会 前 打印 三 份 。

You need to finish this report today. In addition, print three copies before the meeting tomorrow.

入住 前 要 付 押金 。还有 ,不能 带 宠物 。

You need to pay the deposit when you check in. Also, you're not allowed to have pets here.

先生 ,这里 不能 抽烟 。还有 ,请 你们 声音 小 一点 。

Sir, you can't smoke in here. Also, lower your voice, please.
See also
Sources and further reading
Books