Direction complement "-qilai"

Level

Similar to

Used for

Keywords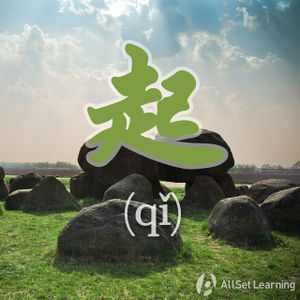 起来 (qǐlái) comes up very frequently in Chinese and can be used both literally and figuratively. This is a little like the usage of "up" in English which can be used literally, as in "stand up," or figuratively, as in "add up." When used figuratively, 起来 often serves as a direction complement.
Expressing an upward movement
Structure
起来 can be used to express an upward movement like "up," as in the English examples of "stand up" or "pick up."
Examples
请 大家 站 起来 。

Everyone, please stand up.

快 把 地上 的 书 捡 起来。

Quickly pick up the books on the floor.

你 怎么 不 把 老人 扶 起来 ?

Why didn't you keep the old man upright?

别 动 ! 把 手 举 起来 。

Don't move! Put your hands up.
Expressing initiation of an action
Structure
起来 can also be used to show that an action or state has started and is ongoing:
Examples
大家 笑 起来 了 。

Everyone started laughing.

宝宝 哭 起来 了 。

The baby started crying.

两 个 大妈 吵 起来 了 。

Two middle-aged ladies started arguing.

天气 热 起来 了 。

It's starting to get hot.

他 的 病 好 起来了 。

His illness is starting to get better.
When used like this, 起来 is only used with spontaneous actions, like 唱, 跳, 聊, or with states like 热, 冷, or 好 etc. It cannot be used with planned actions.
Expressing an initial judgement
起来 can also be used to express a preliminary judgement. 起来 is used here to express that the speaker has only just initiated an action, and based on that, has made a quick judgement. It is used in the following structure:
Structure
This expresses that the subject seems adjective when the action of the verb is performed. This structure is frequently used with perception verbs such as 看, 听, 尝 etc.
Examples
他 看 起来 很 友好。

He looks very friendly.

这 件 事情 听 起来 有点 复杂。

This matter sounds a little bit complex.

你 点 的 菜 尝 起来 不错。

The dishes that you ordered taste good .

这 件 衣服 摸 起来 很 舒服。

These clothes feel very comfortable.
See Also
Sources and further reading
Books
Websites