Expressing lateness with "cai"

Level

Similar to

Used for

Keywords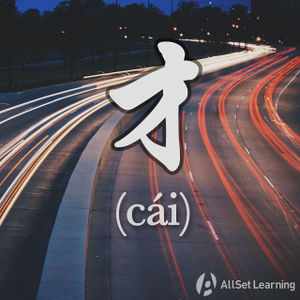 One of the ways to express lateness in Chinese is with 才 (cái).
Structure
To express that something happened later than expected, you can use 才.
In English this might be expressed with "as late as" or "not until." This form is often used with a time number of some sort, like a specific time, age etc.
Examples
我 昨天 晚上 十一 点 才 到 家 。

I didn't arrive at home until eleven o'clock last night.

他 二十 五 岁 才 上 大学 。

He didn't go to college until he was 25.

她 四十 岁 才 结婚 。

She didn't get married until she was forty.

我 女儿 昨天 十二 点 才 睡觉 ,作业 太 多 了 。

My daughter didn't go to bed until 12 o'clock yesterday. Too much homework.

你 九点 上班 ,八 点 半 才 起床 ?

You get up at 8:30 when you need to show up at work at nine?

飞机 刚刚 才 起飞 ,晚点 了 两 个 小时 。

The flight just took off. It was delayed for two hours.

电影 七点 半 开始 ,可是 因为 堵车 ,我们 八点 才 到 。

The movie began at 7:30, but we didn't arrive until eight because of traffic.
You can use 才 alone with the verb to indicate the lateness when the context is clear:
你 怎么 才 吃 晚饭 ?已经 十点 了 。

How come you are eating dinner now? It's 10 pm.

你 怎么 才 来 ?我们 等 了 半 个 多 小时 。

How come you came here so late? We've waited for more than half an hour.
Note that verbs following 才 cannot take 了, as the action does not have the sense of being completed. So it is wrong to say:
See also
Sources and further reading
Books
Websites